Eastwood's style is cool and well-organised. The arrangement that clues showed at the beginning of the movie were refection the end is excellent, and the director is also good at portraying characters from different points of view. The most memorable in the movie is the love between a fifteen-year-old girl, Megan, and a priest. The film was shoot in 1985 when Eastwood was already fifty-five. It's a classic Oedipus love,where the young girl's burgeoning lust is tinged with admiration for her father's authority and a slight sense of matricide . The maiden's love-lust is spoken in the dark, and revealed in the mountains and forests, and then rightfully waits for it to wither away. Oedipus's love-lust is revenge for his aggression, and she resents him for his refusal. The priest, riding on the white horse brings hope as well as death, as the pool of stagnant water before his arrival is reinfused with faith. Barrett's speech by the campfire was quite reminiscent of free speech in colonial New England: "We didn't come here to make money, we came here to make a living. We work hard because our home is here. And if we leave now for a thousand dollars, how much will it cost.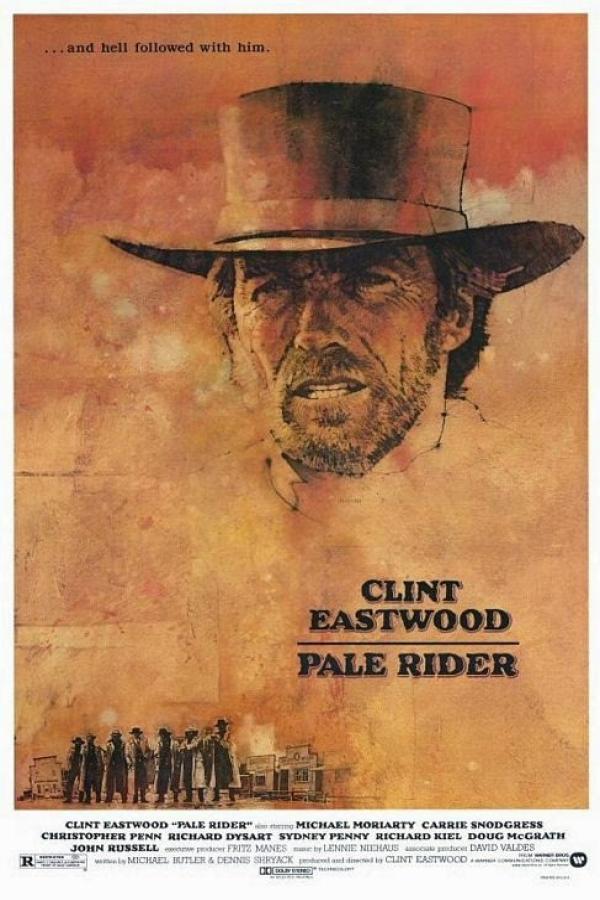 Early in the morning Pale Rider picks up his gun and kills everyone again, not just for justice, but for the bloodshed of a grudge. That's the charm about the Western: it's never just about some grand and noble, it is always full of sympathy for the romantic sufferings of human emotions . This pain is a tooth for a tooth, an eye for an eye. The little town was silent after the combat, and he rode away on his white horse, just as he had come, and just as he had done in the Bodyguard trilogy two decades earlier. But the maiden had not yet said goodbye to him, and when she hurried to find him, he had already disappeared. She cried out loudly as she raced, I love you, thank you, goodbye. The mountains which covered with snow and blanketed the icy landscape, echoed her voice. He must have heard that the pale horse was carried away by the horseman, and the new hope he left behind about life was evidence of his love for her.
The film is very flat to the point of boredom, the intentions within the movie is nothing new, yet the overall aesthetic style is quite advanced and thought-provoking. Time will make people forget too many thrilling and touching things, too many fears, leaps and tears, but all those things that bypass reason and thinking and are intuitively seen by the soul and the broken-hearts will be remembered forever: like that sad mountain at dusk, like that town in the rainstorm, like that man on the white horse.